We live in Pune and were contemplating visiting Delhi for a long time, but since kids are not vaccinated for Covid-19, we did not want to take a flight where one has to be in a confined and shared environment for a few hours. So, we took a plunge and decided to travel by road. We had done Mumbai-Delhi before, so we had some experience, but that was in 2009 when roads were very different from what they are now. For such a long drive, one thing is a must that one should love driving as otherwise, it would become overwhelming within no time.
The route planning
There are multiple route options to travel by road from Pune to Delhi. Two major options include the Gujarat-Rajasthan route and the Nashik-Indore-Agra route. We did a lot of reading on the online forums and blogs to gather the experience of travellers who have travelled on these routes.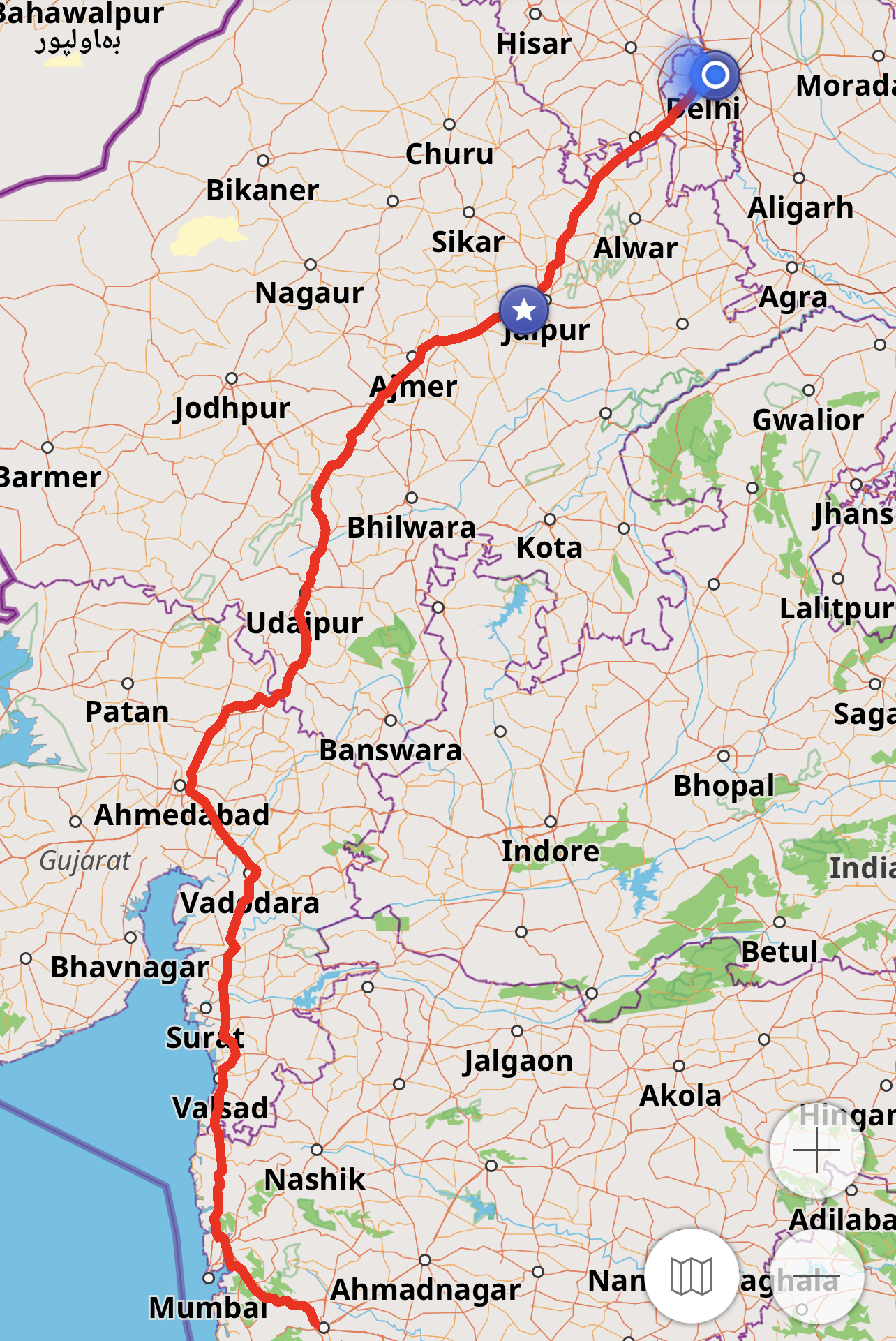 We have an ErtigaCNG and wanted to keep the fuel charges economical, so one of the parameters in choosing the course was the availability of CNG pumps along the route. Google maps search in the routes showed more CNG options along the Gujarat-Rajasthan route than the Nashik-Indore-Agra route. Thus, we preferred the Gujarat-Rajasthan route over the Nashik-Indore-Agra route. The final route that we travelled was Pune-Thane-Valsad-Surat-Vadodara-Ahmedabad-Himmatnagar-Kherwada-Udaipur-Nathdwara-Rajasmand-Bhim-Baewar-Ajmer-Kishangarh-Jaipur-Kotputli-Manesar-Gurugram-Delhi.
Getting the car ready for the travel
Ours is Ertiga CNG 2020 model, and it has not clocked a lot of miles, so it is relatively new and supposedly should not give any breakdown issues. Even then, we got the car serviced a week before. A few days before the travel date is required to check if the service is satisfactory and there are no issues in the vehicle. I also had a few accessories installed before the journey. One was a dashcam (which records the road video and is thus helpful in case one is in an accident). Dashcams also record a video if the car is parked and there is a collision. There are plenty of options available, and we went with the Blaupunkt model, which was within our budget. The second installation was of Garware Ice Cool Anti-Glare Windshield film. Very useful for partially cutting the glaring headlights and blocking UV rays. The third was the Kashyap Car Coil Spring buffer that slows down the shockers and thus cuts down a lot of road bumps, making the ride much smoother. I went on to stay with the stock lights and did not change the headlamps, which was a mistake. The throw of the lights (even in the high beam) is not more than 200 meters, and many trucks that run on highways do not have tail lights working, and one can get dangerously close before realizing there is a vehicle in the front. If you are not driving at night, this should not concern you. However, we decided to get HID/LED combination installed (low beam/high beam, respectively) after reaching Delhi. Another essential accessory was an internal tyre pressure monitoring system. Fantastic device and highly recommended. Plentiful options are available, and after reading many reviews, I went with Durvient Solar TPMS. It is suitable for tubeless tyres, and the sensors can be installed by anyone who can open the tyre. Tyre valves are to be replaced with sensor valves.
We downloaded the offline google maps of the areas around our itinerary, which comes in handy if one needs to search when there is no internet. Google maps allow to download rectangular regions of certain sq meters, so we had to download 5-6 areas along the route. There are also options to download state-wise areas in open street maps (maps.me, osmand, etc.). We used Google offline maps for travelling (more options than other offline maps, like, no limit on the number of stops along the route that one can add in the itinerary), and also used osmand in parallel to record the track travelled (very useful if you want to analyze your route post-travel). We had kids (5 and 7 yo) travelling with us, so we got the last row of Ertiga converted into a sleeping bed. The foot area of the last row was filled with the luggage, and then we placed multiple layers of bedsheets and a comforter to make it comfortable for sleeping. The kids loved it and had a good sleep all through the drive. Luggage was packed in the car a day before, not to leave anything for the last minute. A first-aid box, a tyre inflator (we got Bergmann Typhoon heavy duty), a puncture repair kit if you have tubeless tyres, and a good torch are helpful in any long drive. I also kept some chewing gum as it keeps me awake.
The journey, traffic jams, and the food stops
We wanted to minimize the traffic when crossing Mumbai outskirts, so we decided to start early in the morning, 4 am. But kids were so excited to go to Delhi that they refused to sleep early, and we had to start in the night itself.
We started 2315 hours, 27th Oct 2021. Not a very good idea as there were a lot of trucks, no cars traffic though. And Mumbai-Pune expressway had a lot of road repair diversions (one lane was closed at several stretches), which killed some time.
We had our first traffic jam soon after crossing Thane, where SH42 merges with NH48 and a creek is crossed—wasted straight one hour there. And then we realized, maybe leaving NH48 to take SH42 via Thane was not a good idea, and via the Western expressway of Mumbai would have been a better road. We had to take the service road to bypass the jam, we did save some time, but the service road quality there was pathetic.
We had some Alu-paranthas packed for the initial part of the journey, and thus first stop was for tea soon after we got out of that jam on NH48, on a tea-stall in front of Bharat Petroleum 0315 hours. If you want fresh tea at such stalls, always ask for special chai without sugar.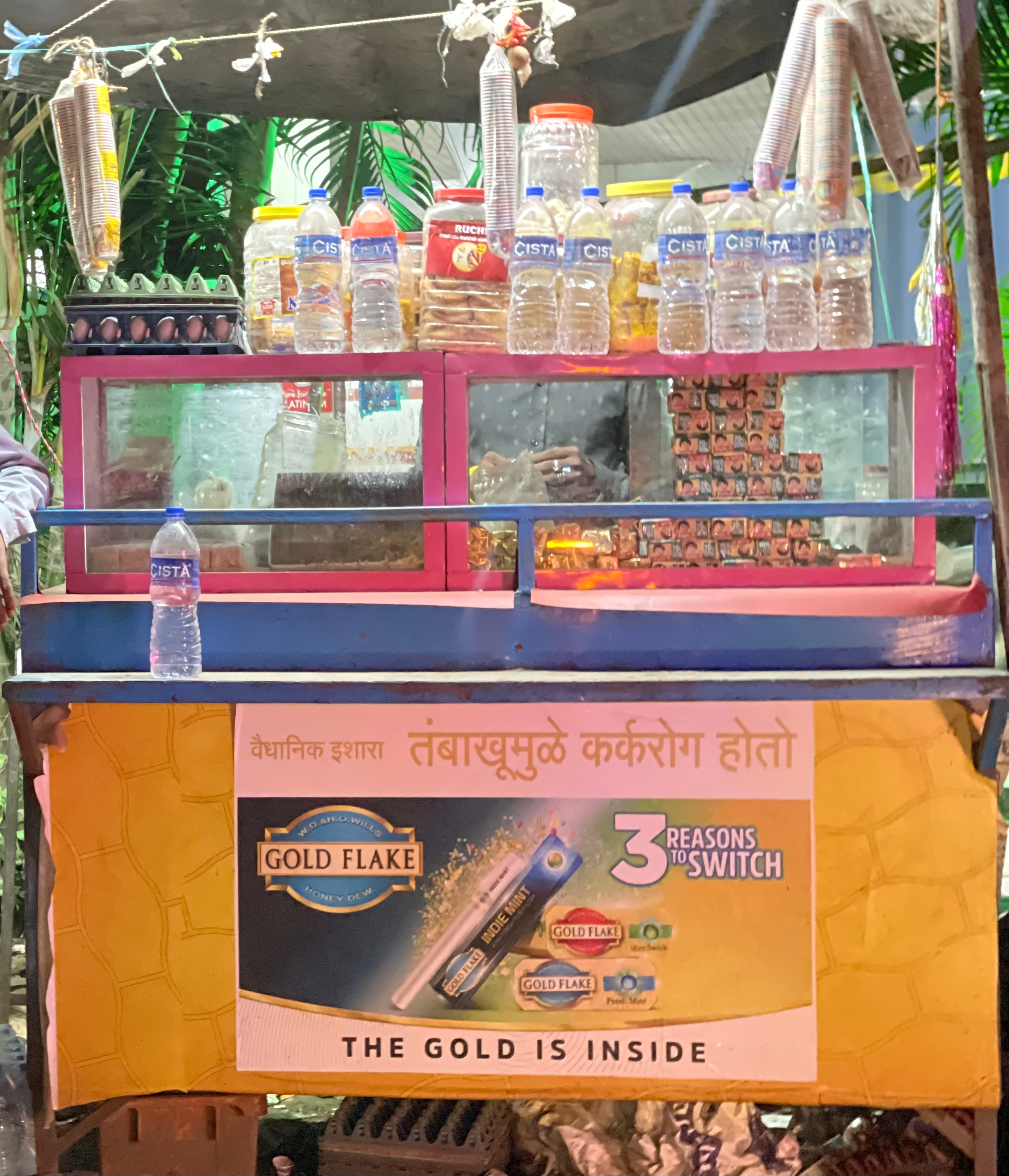 The road was smooth all through, with no constructions, no diversions, etc. Since I was not well-rested before our journey, we changed drivers, and I took a good nap of 2 hours while my wife drove. I took the steering back by 0600 hours and then stopped at Shivkrupa food plaza for breakfast by 0830 hours soon after crossing Bharuch.
A decent place and decent breakfast options, with good taste.
The Roads to avoid
From Vadodara, we took the Ahmedabad route due to the much-hyped NE1. It was a good road, but there are better roads than NE1. The merger from NE1 to Ahmedabad ring road and the whole ring road was running high with traffic. Lost another 30 minutes there (from entering Ahmedabad ring road to leaving the ring road towards Himmatnagar). Further, the highway to Himmatnagar was under construction, and there were frequent diversions due to the construction of flyovers along the route, and we lost another 30 minutes.
We took a lunch stop at Chandan Inn located on NH48 between Ahmedabad and Himmatnagar.
We were the only family having lunch there, probably because we were having late lunch (it was 1430 hours when we stopped). Toilets were stinking, so we could not use them, but otherwise, tables etc., were clean. The food taste was good.
After crossing Himmatnagar, NH48 takes a right, slow driving again due to frequent constructions. And soon after Gambhoi, we hit a major traffic jam. There was only a two-lane road (for both sides of traffic), and there was some sort of a deadlock. So instead of waiting for the traffic to resolve, we took a U-turn, somehow managed to get out of traffic, and took a diversion via SH143 and SH145, which again meets NH48 at a later point. Both the state highways were excellent (especially after seeing Ahmedabad-Himmatnagar bad patch), and we met NH48 to be surprised to see a smoother-than-butter road.
No other jams or bad patches till Udaipur were encountered. Some of the stretches were well-lit, and some were dark and required a headlight. Overall, we were supposed to teach Udaipur by 1530 hours, but due to all the bad patches, traffic jams, and a couple of food and one tea stop, we reached 1900 hours. We decided that while coming back from Delhi, we would avoid the Udaipur route and go via Abu Road. We stopped at Udaipur for dinner, went to the City Palace, parked in the market parking area, and walked down to the Palace.
The road to reach the City Palace was too congested to drive through, and we almost were scratched with a bike handle as there was barely any space, but somehow, we managed (not advisable to drive in that market). Also, some of the road stretches were undergoing construction and were in bad conditions.
The city palace was a good rest to eyes (very beautiful indeed) and body, and they had excellent food to serve. It also overlooks the much-hyped Lake Pichhola. The breeze was too good, and we had a good long walk in the Palace (you cannot visit the inside of the museum and rooms after 1800 hours, but can visit the restaurant and the garden areas of the Palace until 2230 hours.
We were pretty refreshed after spending 3.5 hours in Udaipur city palace. We were contemplating continuing our journey and staying overnight at Udaipur (you can get good homestays even if you have not booked beforehand via Airbnb). We have a cousin in Jaipur who insisted on coming and stopping at Jaipur instead. Kids were sleeping anyways, so we decided to continue to Jaipur (another 7 hours). The road was super smooth. Overall, the quality of roads improved from MH to GJ and then from GJ to RJ. We started from Udaipur at 2230 hours (28th Oct) and reached Jaipur by 0430 hours (29th Oct). We had an excellent two-day stay at Jaipur, a lot of rest, good food, and shopping at Bapu Bazaar.  We started from Jaipur for Delhi on 30th Oct, at 2230 hours (after dinner). There was a traffic jam due to Farmer's protest after Neemrana, RJ, and before Rewari, HR, which we bypassed as traffic was diverted via service road for ~3 km. We lost around 45 minutes there, but after that, it was smooth. We stopped at Hotel Highway express (near Behror) at 0200 hours (31st Oct), had a plate of Rajma-Chawal and Coffee to refuel me. We reached Delhi via the Gurugram border at 0500 hours.
 CNG refills
Pune, MH; Thane, MH; Valsad, GJ; Suraj, GJ; Ahmedabad, GJ; Himmatnagar, GJ; Himmatnagar, GJ; Udaipur, RJ; Jaipur, RJ; Kotputli, RJ; Rewari, HR 160.
Jaipur, RJ, Petrol (for 350 Km of run between the above stretches, where either pump was closed due to off-hours, or CNG was not available on the pump, or there was no CNG pump along the route). Wait times at CNG stations were not more 15 minutes per station making a maximum time loss of 2.5 hours. We often coupled CNG filling with tea breaks to make use of the time. Overall, the car was running on CNG all through MH, GJ, but CNG availability was not so good in RJ. Overall fuel (CNG and petrol) cost for Pune-Delhi-Pune including local driving in Jaipur and seven days of roaming in Delhi was Rs. 12,000/- for a ride of ~3900 kms.
Coming back to Pune
While coming back, we changed to the route to avoid the Udaipur-Himmatnagar stretch and took Greater Noida-Western Peripheral Expressway-NH8/NH48-Jaipur-Ajmer-Beawar-Pali-Sirohi-Palanpur-Mehsana-Ahmedabad-Vadodara-Surat-Valsad-Thane-Pune. We started at 1730 hours from G Noida, and reached Vapi, GJ by 1800 hours (three stops for dinner, breakfast, and lunch) and stayed at the Fortune Park Galaxy hotel overnight. We had a great stay and a good dinner, highly recommended hotel in the area. We left after breakfast at the hotel by 0900 hours and reached Pune by 1600 hours. This route was much better and had no construction or traffic jam, except the Farmer's protest related jam between Rewari and Neemrana, killing an hour there. Overall, the route is longer by two hours, but I would any day prefer a smoother ride even if it is slightly longer.
This trip has definitely increased our confidence in road travel in India. And with the upcoming Mumbai-Delhi expressway, I would think twice to take a flight.